$35 UA SportsMask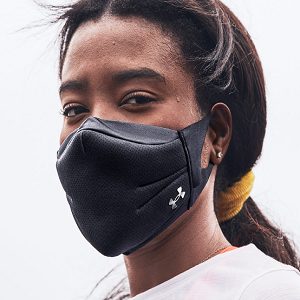 Description
Now that face masks are required in many public places, consider an athlete-friendly mask from Under Armour where you can preorder their SportsMask for $35 for a limited time.
The SportsMask has the airflow you need, a cool feel with its Iso-Chill tech, and is the best fit for running and training. The mask is soft but structured and wicks swear without blocking airflow. The nose bridge is adjustable and baselayer fabric allows for a snug fit under glasses. Best of all, it's environmentally friendly and sustainable as you can wash it in its entirety then wear it over and over and over again without worrying about disposing it or any filters. SportsMasks are not medical or surgical masks so shop accordingly. Outer layer is made of 100% polyester, inset is 100% polyurethane, and the interior/ear loops are 77% nylon and 23% spandex. The first round sold out quickly, so if you want to secure your own this time around act quickly before stock runs out.
Sale is live for a limited time. Masks ship by August 17. Shipping is free on orders $75+. Quantities are limited so shop now while supplies last.
Deal Details
Start

June 26, 2020

Expires

July 16, 2020