New Flyer: Fresh Pork Picnics $0.98/lb + More!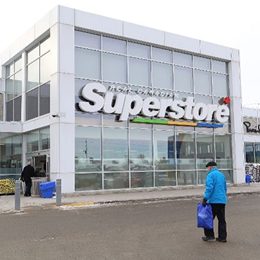 Description
The new Real Canadian Superstore flyer is here, and you can see it now on RedFlagDeals!
Flyer offers vary slightly depending on your region and we've listed a few of the offers from the Ontario flyer to help give you an idea of what's available.
PC Optimum Offers
5,000 points for every $25.00 spent on any Claritin or Aerius products
3,000 points for every $14.00 spent on Off! Insect Repellent or Raid bug spray
Groceries
Fresh Pork Picnics - $0.98/lb
Whole Seedless Watermelon - $3.88
PC Zipperback White Raw Pacific Shrimp - $5.98
Air Chilled Whole Chicken - $1.88/lb
PC Smokies, 1kg - $6.98
Skinny Pop Popcorn - $4.00
Green or Red Lettuce - $0.98
Farmer's Market Yellow Onions or Carrots, 3lb - $1.98
Wonder Ballpark Buns - $2.00
Farmer's Market Russet Potatoes, 10lb - $3.98
Household Essentials
Tide Simply Liquid Laundry Detergent - $7.98
Febreze Air, Car Clips, or Small Spaces - $2.98
Health, Personal Care and Beauty
Tylenol Pain Relief, Asprin, or Aleve - $13.98
Webber or Sunkist Vitamins - Up to 25% off
Maybelline Fit Me foundation, concealer, powder, or blush - $5.98
Olay Facial Skin Care - Up to 15% off
Maybelline Great Lash Mascara - $3.48
Electronics
LG 43" 4K UHD Smart TV - $449.98
Google Home Mini - $39.00
Kitchen
PC Smoothie Blender - $26.98
Cuisinart Waffle Maker - $49.98
Anchor Hocking Bakeware - Up to 25% off
PC Food Storage Containers - Up to 25% off
T-Fal Intuition Jumbo Cooker or Fry Pan - $24.98
Note that due to increased demand and pressure on product availability, select items will have a limit of 2 per purchase.
This flyer is effective July 9-15. Note that prices and offers will vary by region. Be sure to scan your PC Optimum card at checkout to claim PC Optimum Member Prices. Click here to find the store nearest you.
Deal Details
Start

July 09, 2020

Expires

July 16, 2020
More Beauty Supplies & Personal Care Deals